Richard Bishop, LAc, MSOM, CMT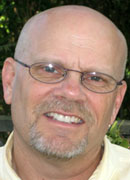 Richard is a Licensed Acupuncturist with a Masters of Science in Asian Medicine as well as a Certified Massage Therapist. He practices Acupuncture and Massage in Southern California and has been involved with a well known high end day spa in California for over 10 years. Richard provides a comprehensive menu of Acupuncture services as well as many massage based relaxation techniques that compliment one another for maximum therapeutic benefit.
Experience in the medical sales field encouraged Richard to explore a more "hands on" participation in wellness. His exposure to alternative therapies as a patient led to his extensive education in Acupuncture, traditional Asian medicine, and Massage.
SERVICES and more Acupuncture info:
Acupuncture is a traditional Asian medicine practiced for thousands of years. It has quickly become one of the fastest growing alternative therapies and is often used to complement and enhance the benefits of western medicine. Although, over 3000 years old, Acupuncture knowledge and training has kept pace with the times. Richard Bishop, L.Ac. Is available to discuss how this comprehensive health system can benefit you.
Acupuncture is recognized by the World Health Organization as a viable treatment modality for well over 50 conditions. "Anyone can benefit from Acupuncture treatments", says Richard. He adds, "This is a great treatment for overall wellness because of the balance that can be achieved with the correct prescription of acupoints". Once the needles are placed, you can close your eyes and relax while the treatment progresses.
Richard Bishop is a Licensed Acupuncturist with a Masters of Science in Asian Medicine who can help you experience and benefit from this natural health care system. His treatments follow the ancient strategies of Asian Medicine integrated with modern healthcare healing practices to treat:
Additional Acupuncture Services