Scope of Services
Richard Bishop is a Licensed Acupuncturist with a Masters of Science in Asian Medicine who can help you experience and benefit from this natural health care system. His treatments follow the ancient strategies of Asian Medicine integrated with modern healthcare healing practices to treat:
Most California Insurance Companies now cover Acupuncture.
Call (949) 338.9595 for an appointment.
Additional Acupuncture Services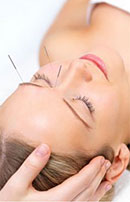 Richard also performs an Acupuncture assisted Facial that dramatically enhances the results of a traditional esthetic facial by nourishing from the inside-out.
Please call to discuss your custom treatment and skin care strategy.